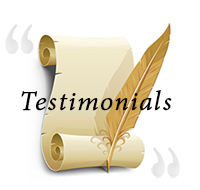 Thank you again for your gracious hospitality of amazing culinary experience! We love dining at your restaurant and can't wait until we come back!

All the best,

Ted Kennedy, Jr.
---
I canít compliment the Chef enough!! Everything was amazing Ė outstanding! Five of us had everything from calamari, oysters, veal, your special cod and scallops. There was nothing that didnít deserve 5-Stars!! We Love This Place! And, we had the best service too!

Megan P.
---
To: Jennifer and Everyone at Cafe Allegre


I can't thank you enough for all the help you and your staff gave me in the preparation of my daughter's bridal shower on June 11th, 2017. Please share this note with all the wonderful staff who were part of Mary Catherine's shower. I can only give you praises and more praises! I'm so happy we have chosen Cafe Allegre for our rehearsal dinner and wedding at WoodwindS! I know now I can rest assured it will be wonderfuL

Janice K.
---
To the staff of Cafe Allegre, My husband and I hosted a 50th anniversary party at Cafe Allegre on Sunday, May 21. From my first contact with Jennifer in January until we left the restaurant the Sunday of our party, we were treated like special guests. Jennifer helped so much with the planning, took notes all along and listened to my requests. Everything that I asked for was done beautifully. When we arrived at the restaurant the day of the party, we were greeted warmly. The room looked beautiful. The wait-staff was amazing! They were kind, caring, hospitable, helpful and efficient. They made our guests feel very welcomed. The food was outstanding and everyone commented about how delicious it was. We were receiving compliments all week about the party.

Thank you for making this special event so memorable. We can't wait to return soon for dinner.

Sincerely,

Phyllis and Monty Kaletsky
---
I had my daughter Tiffany's bridal shower at your restaurant on Sunday 06/26/16. I want to thank you for a complete success!! Right from the beginning, when I booked the room and the date, Jennifer made everything so easy. It almost seemed too easy. I was so nervous that it wasn't going to be right, but when I got there, everyhing was perfect and just what I had asked for. When I came in I had a lot of setup to do with party favors and centerpieces and things. People were arriving early and I wasn't ready but I think her name was Karen and I'm afraid I don't remember the gentleman's name jumped right in and helped me finish. They were wonderful keeping everyone's wine and water glasses full and taking care of the guests. The food was over the top! Everyone was commenting on how good all the food was and what a beautiful shower it was. Thank you so much to you and your staff for making my daughter's day a great and special memory!

Pamela C.
---
I was at your restaurant last Sunday with my daughter and friend. It was absolutely wonderful. My second time there and I was so excited to meet the owner/chef after speaking to his very nice wife. I inquired about the sauce since I had purchased it there on my first visit. To our surprise a jar was given to us! I want to express my appreciation for this wonderful gesture. I do hope it will soon be in the RI stores. It is the best!

Ann M.
RI
---
Jennifer, I wanted to thank you for coordinating our bridal shower for my daughter. We were very pleased with our meals and accommodations. I especially wanted to thank our servers, Jim and Amanda. They were so professional and quite attentive to us. Their efforts made the shower a great success! Would book a party here again.

Diane P.
---
Thank you for a fabulous meal - my first since days in Roma! The artichokes were delicious...we will be back!

Dr. Natalie Hahn
New York City
---
Everything was perfect, the room looked beautiful. The food and wait staff were top notch, I could not have been happier. Everyone enjoyed this special night, you couldn't help but have a wonderful night, good food, good company and wonderful staff personnel- a winning combination. You made our special night so memorable for all.

A million thank you's!!!!

Deirdre Day
---
Chef Silvio, you are an amazing chef! Our guests are still talking about the food from our wedding and rehearsal dinner. Café Allegre was also a beautiful place to take our picture before the wedding.

Thanks for everything!

Vivian & Mark
Scarsdale, NY
---
We want to express our gratitude and thanks for the wonderful food and care you gave us and our guests Sunday, July 5, 2015, at our 50th wedding anniversary party. Everything was perfect and all our needs were met and then some! The party as a huge success and everyone had fun. As usual, the food was wonderful (I've never had anything at Café Allegre that I didn't like) and we really appreciated all the attention to detail you all put into this. Again, thank you for making our special day so wonderful!

The Crandall's
Clinton, CT
---
The surprise party Gary gave me was wonderful! Our guests loved the food and the ambiance - everyone had a fantastic time. Thank you so much for the champagne toast, the delicious dinner, and all your kindness to us when we come in for dinner with the kids. It is very much appreciated and never taken for granted. It's a pleasure to have a home away from home.

I look forward to many more scrumptious meals and good times at Café Allegre.

Thanks again,

Carol P.
Madison, CT
---
Josephine and I want to thank you for hosting our 50th party in your beautiful facility. The food was as good as we have ever eaten and the service as excellent! We also would like to thank Jen for her assistance and patience, Karen for being with us every minute along with John for their usual attentiveness. Joey D. for his "cameo" appearance, kind words and years of friendship and Bobby who now pours them into a glass as good as he poured them into a hoop.

Thanks again for a wonderful day, enjoyed it all! It was a great start to a new "50".

Joe & Josephine
---
I want to thank all of you for the party you provided for all of our family in the Garden Room . The food was delicious! Our waiters were superb; caring and attentive to our needs and always friendly and happy. The Garden Room was perfect for our event and all the necessary arrangements you provided were done in an exceptional way. In all, we couldn't have been happier and we thank you!

Sincerely,

Gerald Degenhardt
Madison, CT
---
Consistently excellent - both food and service. We like the bar area best, but the dining rooms are elegant and comfortable. Save room for the tartufo!

Audrey H
Madison, CT
For more information about Chef Silvio,
please visit his website,
www.chefsilvio.com